The thought of spring break was a little daunting. Five days alone with Luke (while Hal works). 35 weeks pregnant. Extremely active 19-month-old.

But we're making do. The weather has been beautiful so we were able to spend some time outside.

And we were able to get a project done I've wanted to do for awhile!

Sensory boxes are all the rage on Pinterest and amongst mommy friends. I wanted to get together a box of stuff that Luke could play with whatever way he wanted. Many sensory boxes use rice and beans, and while those are awesome, I wanted to do something a little less messy.

So Luke and I ventured to Hobby Lobby on Tuesday to get supplies for...The Box.

I wasn't sure what The Box would look like when all was said and done. I had some vague idea about pipe cleaners. That's all I got.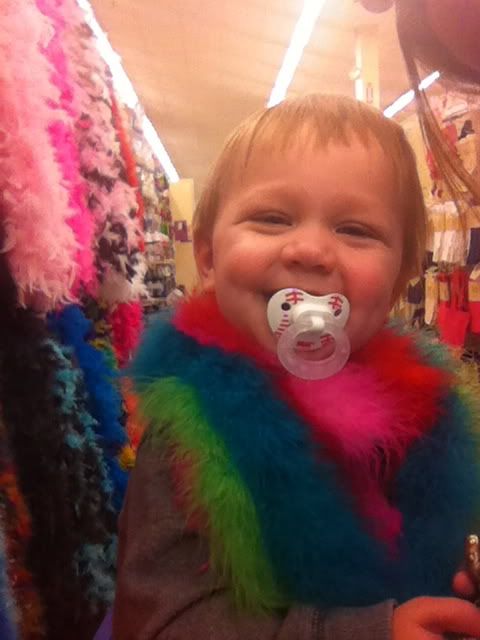 Luke was actually very unhappy to be a Hobby Lobby. He didn't want to walk. He didn't want to sit in the cart. He started screaming (hence the "B," as he calls his binky). But then we found some boas, and the whole day brightened (no muppets were killed in the making of this photo).




We picked up an enormous amount of stuff (including a box with a lid. Here is the box with most of our supplies, and I even have some things left for restocking (I didn't place all 100 pipe cleaners in the box, and I left out many of the colored tongue dispensers, too).

What do we have? Here, a (very scientific in terms of the names) list:

multi colored feathers
plastic Easter eggs that open
multi-colored puff balls
sparkly puff ball pom pom things
wooden cubes
pipe cleaners
glass bead things that you often put in candle holders (I got ones that were too big to swallow)
multi-colored wooden tongue dispenser things
four plastic cups
A blue plastic thing that looks like a biga cupcake holder
3 jingle bells

The box and the Easter Eggs were the most expensive parts of the project. Obviously, I got a lot of stuff. I spent about $35, and about $12 was the box and Easter Eggs.

But it has been worth it! There has been a lot of imaginative play that has come out of the box (for Luke and Mom and Dad!). We do a lot of drumming:




We stuff Easter Eggs:




Luke now has a magic wand that Hal made him! I was kind enough to not take the picture of Hal with features sticking up from his hair and waving the wand around. Luke likes to tap Hal's hand with the wand, count to three, and then flying puff balls magically fly up in the air:




The other thing I am noticing is that Luke likes to "cook." Lots of stirring going on:




He has been interested and playing with it pretty much every day we've had it. We'll see how long that lasts. But I am glad we did it!