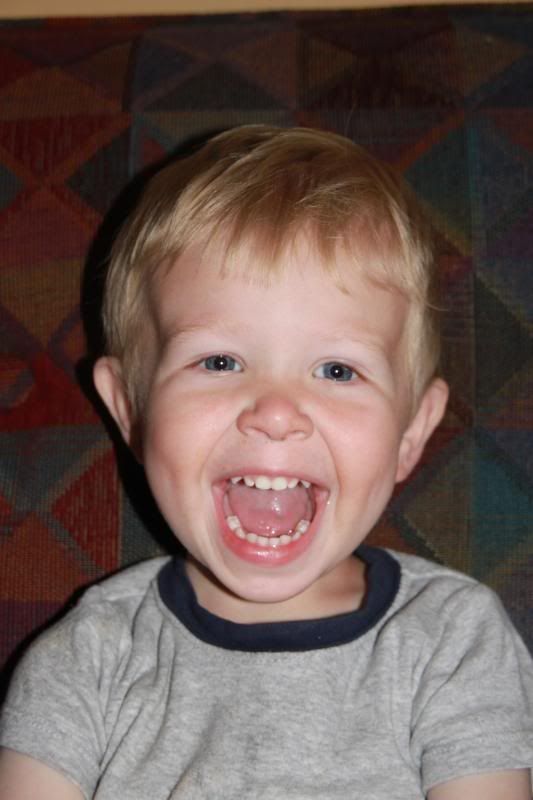 My little buddy turned 2 years old yesterday! We celebrated by having lasagna dinner for around 22 (my mom's side of the family, Hal's parents, and Luke's godfather's family). He got lots of presents (including a sandbox) and really enjoyed his cake, which he has been asking for for days.

Nathan is so sweet. He's talking more and more and he loves to run, climb, and jump. He and his big brother have such fun together (most of the time). Nathan is a finicky eater -- we never know if he's going to eat everything or nothing on his plate. He especially likes anything sweet, bread, hot dogs, cheese, raisins, and pizza (what terrible nutrition). We work on veggies and fruits, but he has always been very stubborn about food. If he doesn't want it, he's not going to eat it (and the reverse is true -- there is no quicker way to get a crying/tantrum than to take away something he wants to eat).

He loves lions and making animal noises. He enjoys Sesame Street, Thomas the Tank Engine, and he gets excited when he sees airplanes. He gives hugs and kisses a lot and really enjoys seeing Gammy (my mom) and "The Pa" (my dad). He likes his book Moon Mater the best, but he loves to read and sing, especially before bed. He enjoys the bathtub and loves to say "potty," particularly when his big brother leaves a table at a restaurant to go to the potty. He likes to draw and dance and is just a joy.