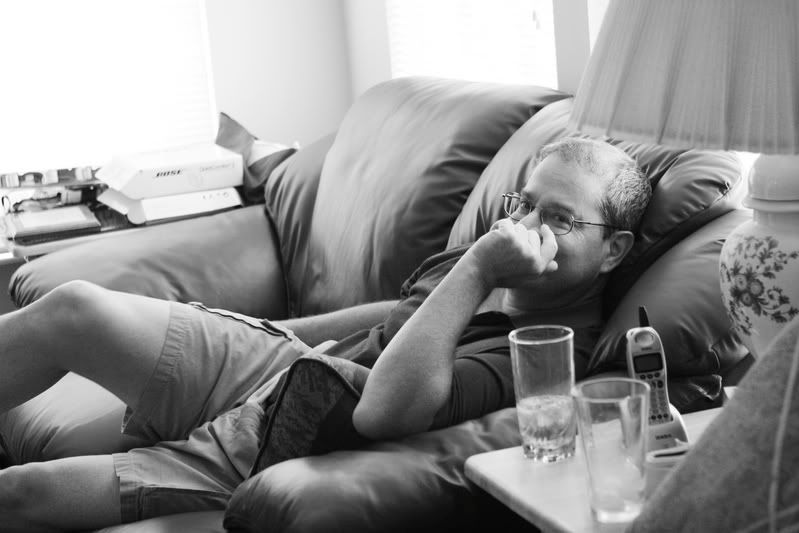 Yesterday was my dad's birthday! Please don't think I forgot. I called and sang to him and talked to him several times yesterday. We celebrated his birthday last weekend when we were home. Yesterday was a very busy day that kept me from blogging, so I'm making up for it today.

My parents are awesome. Both of them took so much time in raising us. They played with us and coached our teams. Their care of us has extended even after I have been married and out of the house. They are incredibly generous and so much fun to be around.

With Dad, we played many games as kids. In "Indestructo" we tried our best to stop him from crawling across the living room while he chanted "Indestructo" and beat us every time, and in "Yoo-Hoo" he hid somewhere in the house and we had to find him by following his calls of "Yoo-Hoo!" We cleaned the kitchen to "Inna Gadda Divita" and we shook the house with movies and music once we got surround sound. He threw football and baseball and passed soccer and shot hoops with us in the yard (both my parents did), and when the neighborhood kids came up to play, he included them, too.

He teased my boyfriends and gossiped with my friends. He and I use puns constantly, and sometimes we're the only ones to laugh at them. He's witty and smart and silly.

There's so much to write about, but I'll stop there! :) All there pictures here are from my wedding and taken by Tine Hoffman. In the top picture, Dad was thrown out of every room by a gaggle of loud young ladies as we rushed around to get ready. Finally, we disturbed him in his room, his sanctuary, because we ended up dressing in there. Poor Dad. In the bottom two pictures, we were obviously having the father/daughter dance. Before I picked my dress, church, photographer, anything, I knew what I was going to dance with my dad to. Dad sang "That's Amore" by Dean Martin to me many times as a little girl, you know the one, it's the, "When the moon hits your eye like a big pizza pie, that's amore!" song. We spun wildly around the dance floor, throwing our arms way up in the air and then way down to the ground. It was awesome. And us.

Mom and Dad left last night for a nice vacation in Europe. It's the first time they'll be there together, which is so exciting. I can't wait to see their pictures.

Happy Birthday, Dad.