To continue the theme of mushy brain, I about had a heart attack this afternoon when I heard the news out of Ft. Hood because my brother Stephen is at a Texas base and I momentarily forgot which one. Thankfully, he is not at Ft. Hood and is safe and sound. Regardless, what horrible, horrible news.

We went and saw a production of "Boom" tonight, a play about, well, the end of the world. It is a comedy, and pretty darn funny. One of the coolest things was that the playwright, Peter Sinn Nachtreib, was in the audience this evening! When the director was making his before the play spiel, he introduced the author and said, "We're so honored to have the playwright with us, and I'm as nervous as hell." This statement was one of my favorite parts of the evening -- so endearing!

I also got my glasses in the mail today! I ordered two pairs of glasses from (I think) China through a web site that had glasses for $8 and up. I spent $30 and got two pairs of glasses. They're great! I might order more pairs so I can be stylish and fun. Because I have the capability of taking not-so-flattering photos of myself on the computer, I've decided to include a picture of one of my new pairs of glasses.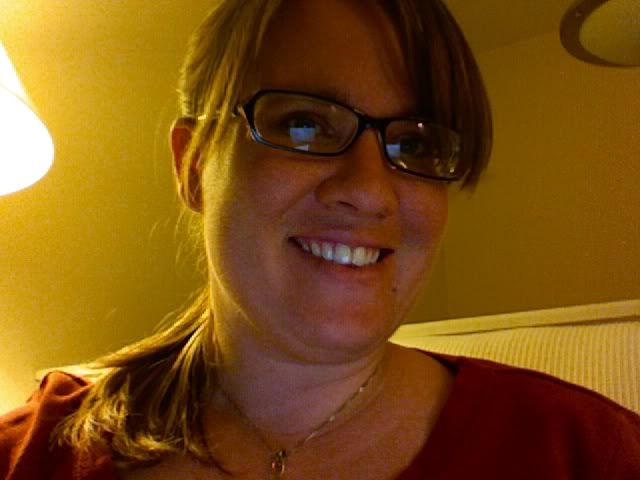 Yay! I look so arty in my black plastic frames. I am thinking about ordering these in blue as well. Also, you can't tell from this picture, but they have a red stripe on them. A photo is here. I will take a picture of the other ones at some point in time.